…As ZiDancehall Empire DJs are set to rock Montclair tonight (Friday) 
Ngoni Dapira
TOMORROW (Saturday) Nyanga's Montclair Hotel and Casino will be lit as versatile Afro-jazz crooner Alexio Kawara, the Black Spirits, dancehall prodigy Tocky Vibes and Afro-fusion sensation Ashton 'Mbeu' Nyahora are billed to reincarnate the late legendary music icon Dr Oliver 'Tuku' Mtukudzi at his signature, annual winter show at the resort.
For those that attended the past Tuku winter show and golf tournament events at Montclair, will attest that they were a blast and exquisite, especially for the uppity revelers who wanted an up-close show with the superstar. The Tuku winter show that was now attracting a huge following each year with many coming from Harare and some even as far as Bulawayo, was promising to be a game changer for the tourism industry in Nyanga as creative, continuous efforts are being made to try boost tourist activities and arrivals in the eastern bloc.
Montclair Hotel general manager Brian Nyakutombwa in a press release said the Tuku Tribute  show will be headlined by the late superstar's band the Black Spirits with a special ensemble of Dr Mtukudzi's protégés in Mbeu and his Mhodzi Tribe band and Tocky Vibes of the 'Aenda Nenyika' and 'Amai' hit songs. Both of the artistes were mentored by the late Dr Tuku himself as they established their careers. The 'Shaina' hit-maker Alexio and his band Shades of Black who have in the past years frequented at the annual show with Tuku will also be also be the top billing act of the evening.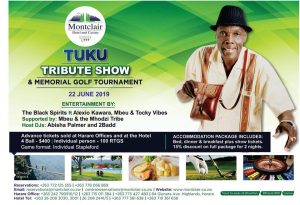 Nyakutombwa however said he hopes to continue the concept they started and nurtured in the past six-years with the late granddad of Zimbabwe's Afro-fusion jazz music by continuing to host the Tribute show in his honour each year, bringing big names in the local and regional music circles to perform at the tranquilius eastern highlands resort. He added that he was happy with progress so far in preparing for the event and is optimistic that the show would continue to evolve and grow bigger even after the passing of the superstar.
"We have hopes that in future the line-up of artistes will be bigger and possibly include some big international names. We also hope that together with Tuku Musik we will be able to host the Tuku Memorial Golf Tournament yearly. For us, it is an honour and pleasure to continue being associated with Tuku Musik in the furtherance of Dr Mtukudzi's music legacy," he said.
In the press release, Tuku Musik manager Walter Wanyanya said the annual winter event was highly valued by the late superstar and they would give it the due respect in his honour. "This event has been on the Montclair calendar for the past six-years, every month of June and Oliver Mtukudzi had always performed to expectation, but sadly the music fraternity was robbed of one of its best gifts. Mdhara would have loved to see it flourish and grow even bigger. It's sad that Mdhara will not be there this time around, we would have loved to hear his latest and grand old time offerings as usual," said Wanyanya.
Nyakutombwa said as usual there will be a golf tournament during the day, dubbed the Tuku Memorial golf tournament then the show in the evening. However, before the tribute show tomorrow, as usual tonight (Friday)  there will be a dancehall session in the Top Bar Lounge at Montclair with the ZiDancehall Empire DJs Abisha Palmer and 2badd doing what they do best on the decks.
He said for the Tuku Tribute show the Black Spirits in collaborations with Alexio, Toky Vibez and Mbeu are expected to take fans down memory lane and perform songs by the late SaManyanga as he was fondly called. "The supporting act for the show will be delivered by Mbeu and the Mhodzi Tribe who have been making waves locally and regionally. With so many exciting tourist activities at Montclair Hotel and Casino and the surrounding areas of Nyanga such as the Mtarazi Falls, Nyangombe Falls, the Mtarazi Zipline and Skywalk, local music and holiday lovers will have enough to do and see during this weekend outing for the Tuku Tribute show at Montclair, " said Nyakutombwa.
Literally, the entire nation in one way or another mourned the veteran musician who passed on 23 January this year and was conferred a national hero but was eventually buried at his rural home in Madziwa in Shamva in Mashonaland Central. Tuku must indeed be smiling in his grave to see his lifetime work as an artiste wielding so much impact in the lives of Zimbabweans. What he achieved as a musician from humble beginnings as a ghetto boy to become a powerful and influential music icon not only in Zimbabwe but across the African continent should actually motivate Government as an afterthought on how the local arts sector needs to be promoted more. By the time of his death Tuku was rated by America's Forbes Magazine as one of Africa's 10 most bankable artistes and some experts ranked him alongside Senegal's Salif Keita and Youssou N'Dour for his innovation and influence.
Mtukudzi, who died at the age of 66 after a four-decade career with 67 albums to his name broke that barrier in many ways. To begin with he was well off financially unlike most local artistes of his generation. He mixed several different styles in his music and eventually created his own distinctive Afro-jazz sound, which became known as "Tuku Music" and by the time of his death he had many national, regional and international awards to his name, as well as an honorary doctorate in music. Unlike most affluent people of his stature, Tuku had also plausibly invested in his rural home in Madziwa.
Mtukudzi became the first Zimbabwean artiste to be conferred with national hero status. Since independence in 1980, Zimbabwe has lost many renowned artistes that put his country in the limelight through their musical talents, these include Leonard Dembo, Paul Phiri, Biggie Tembo, John Nyathi, Andrew Chakanyuka, Jethro Shasha, Solomon Skuza, William Mhlanga, Crispen Matema, James Chimombe, John Chibadura, Jonah Sithole, Susan Mapfumo, Brian Sibalo, Freedom Sengwayo, Jackie Madondo, Simon Chimbetu, Joe Masters, Cephas Mashakada, Andy Brown, Fortune Muparutsa, Stobart Chidikano, Tongai Moyo, Hilton Mambo and Prince Tendai Mupfurutsa are some of the few artistes.