'…Councils must be pro-poor oriented'
Ngoni Dapira
MUTARE residents are now bored stiff of politicking and mal-administration on governance issues by the local authority, which explains why most people have developed indifferent reactions and no faith in public pre-budget consultations, a civic society expert has said.
A residents association, United Mutare Residents and Rate Payers Trust (UMRRT) initiated an online petition in partnership with other Mutare based civic society partners, which ran from 10 February up to last week Monday when the City of Mutare convened an emergency Special Council meeting to review the approved 2021 budget. The approved 2021 budget which was effected from January received an immediate backlash from disgruntled residents after they realized utility bill tariffs had been increased by 500 percent. This was regarded as 'insensitive and unaffordable' for most people, especially in the wake of the global covid-19 pandemic, which has rendered many jobless due to stringent national lockdown regulations.
The online petition was signed by 588 people, which was 1.88 percent of the 50 000 signatures that had been target. UMRRT programmes officer Edson Dube said the idea behind the petition was in response to the scores of complaints they were receiving from residents and the business community after receiving shocking utility bills in February for the month of January.
Through UMRRT and other civic society organisations (CSOs) like Conscious Development and Empowerment Trust (CODET), Manica Youth Assembly (MAYA), Transparency international Zimbabwe (T_IZ), Zimbabwe Coalition on Debt and Development (ZIMCODD) Youth Hub Manicaland, Nango Eastern Region and Women and Law in Southern Africa (WLSA) Zimbabwe, a #Ratesmustfall campaign was started online."The #Ratesmustfall campaign on social media platforms and the petition were meant to put pressure on the local authority, of which this partially paid off. Councils must be pro-poor oriented and sympathetic towards its citizens, especially during pandemics and national economic crisis," said Dube.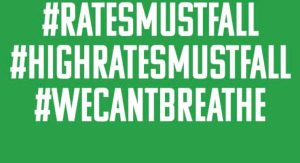 Through the Special Council meeting, the municipality was pressured to review downwards some of the tariffs. It however maintained the charge for rates, but this remains a ball of contention with many residents that continue to protest for rates to fall on various social media platforms.Those in high density areas that used to pay ZW$400 the whole utility bill, found themselves with bills of over ZW$2000 whilst those in low density areas that used to pay about $2000  found their bills hiked to over $5000. Some people with commercial businesses said their bills were over $60 000 for January. Dube said the charge of rates usually constitutes nearly half of the utility bill which is why the campaign was mostly for rates to fall.
"Since 2019 we have been urging City of Mutare not to do public budget consultations that are more like formalities to avoid public backlash. Our engagement with the municipality has improved since 2019, but what we have been proposing and discussing has however not been conclusive. We should conclude action plans and measure engagement with resolutions. Unfortunately the town clerk passed away untimely, but we hope the milestones he made of pushing for an open door policy will continue to be improved on to ensure better-quality service delivery," said Dube.
Mutare Mayor Blessing Tandi during a press conference after the Special Council meeting said the municipality would however continue with its new step up tariff with wider water consumption bands, for the sole reason of punishing water abusers through punitive tariffs above the set rations. The municipality resolved that instead of the 500 percent sharp increase, it set quarterly tariffs. Mayor Tandi said for the first quarter from January to March, the highest water punitive band will be reduced from $236.98 to $36.90 per m3 to allow residents to gradually adapt to the new tariff regime.
The acting town clerk Dr Antony Mutara who is the Health Services director added that people really need to understand why they introduced the step up tariff. He said 26 kilolitres is the normal consumption for high density suburbs, so water bands after that should be made punitive to save water.
"In the step up tariff for high density suburbs the reduced water bands will see the first three kilolitres being free…From 26 to 50 kilolitres is the punitive rate to discourage abuse of water. The cost that we had charged was however a true reflection of the increased cost of doing business due to inflation, but we will stagger the tariffs quarterly, which means after every three months," said the acting town clerk.
The punitive tariff for water abusers above 50m3 was revised downwards in the high density suburbs from $236.98 to $80.00, whilst in the low density suburbs it was revised from $236.98 to $90.00 above 100m3. "Last year we embarked on budget consultation meetings that we did for the 2021 Budget. We saw the increment fit for the City of Mutare to be able to offer a decent service to the community, but after implementing it there was an outcry by all residents from both low and high density areas, inclusive of the business community. So we saw it fit that we revisit out budget as council and address one or two issues that brought the outcry," said the Mayor in support of the reviewed tariffs after the Special Council meeting.
Adding, "We sat and looked at the approved 2021 budget and what we noticed is that in the step up tariff that we introduced the bands were too close and that the punitive band was too close as well, thereby blowing off the water bills of our respective communities."